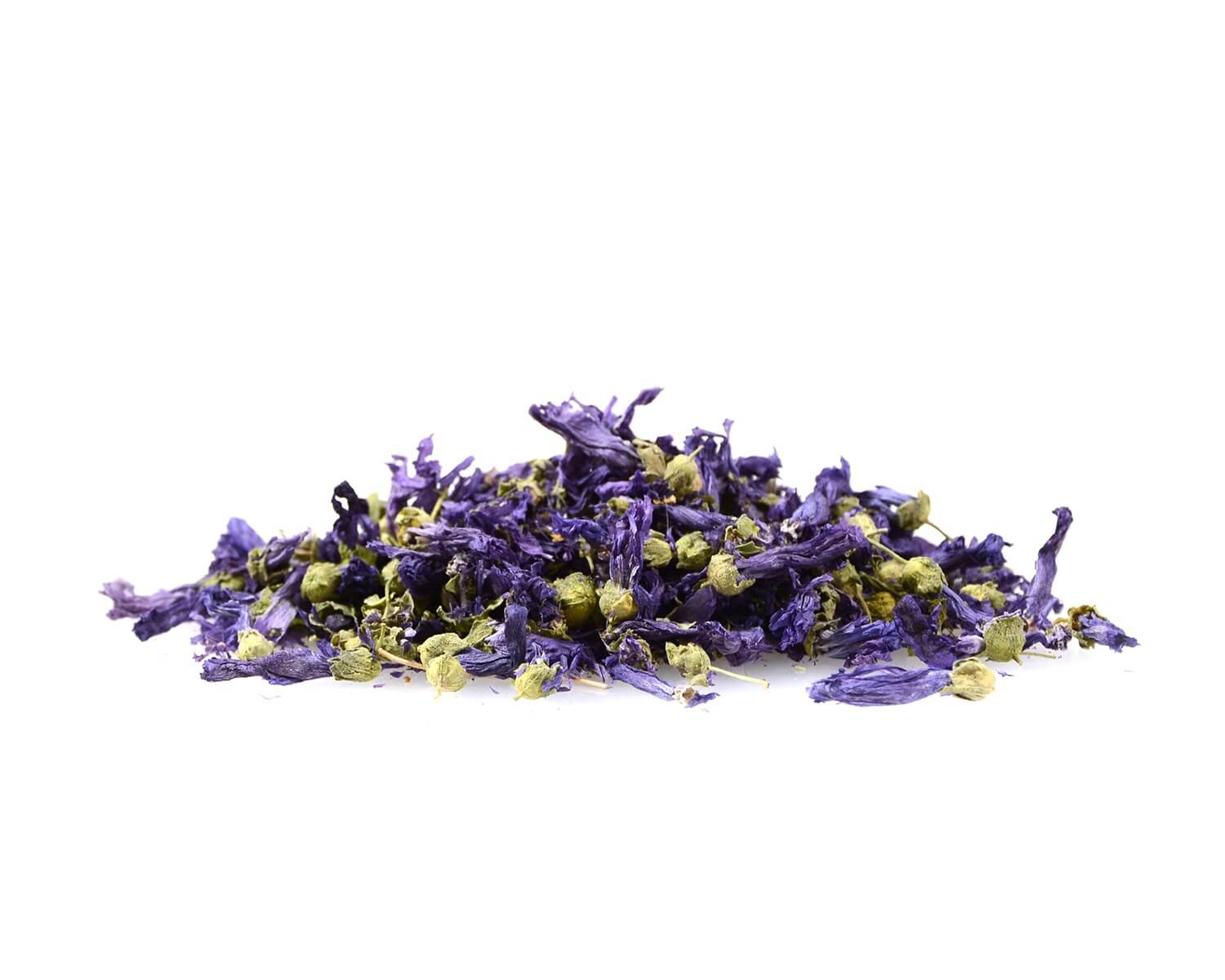 Mallow Flowers
Organic and Conventional
This extract is used in pharmaceutical and cosmetic industries. It is very effective in the treatment of kidney and bladder diseases. You can make tea with these little purple flowers and enjoy.
Ask for Price or Description
SPECIFICATION SHEET
PRODUCT DESCRIPTION: Blue Mallow
VARIETIES: Malvaceae,Malvae sylvestris L.
COUNTRY OF ORIGIN: Iran
CERTIFICATION: EU Organic Certified by KIWA BCS
PRODUCT DESCRIPTION: Blue mallow iiscooling and demulcent, as oneof 3teasin theworld whichis naturally blue
andchanges color,used as a medicinal plant and Its leaves can be eaten in salad or vegetable dishes. The flowers have more mucilage than the leaves.
STORAGE AND SHELF LIFE: Cool and dry storage, 2 year from packing date
PACKAGING: Plastic Bags in cartons
ORGANOLEPTIC CHARACTERISTICS:
Flavor: a mild bitter ,astringent taste
Aroma: A mild soft floral aroma
Texture: Dry and brittle
Appearance: Flower whole
Color: Green-Purple
PHYSICAL CHARACTERISTICS:
Foreign matter ≤2.0%
Moisture˂ 13%
Total Ash˂ 14%
Particle Size ˂ 2cm
_____________________________________________
DATENBLATT
PRODUKTBESCHREIBUNG: Blaue Malve
VIELFALT: Malvaceae, Malvae sylvestris L.
URSPRUNGSLAND: Iran
ZERTIFIZIERUNG: EU-Bio-zertifiziert von KIWA BCS
PRODUKTBESCHREIBUNG: Blaue Malve ist kühlend und demulzent, als eine von 3 Tees in der Welt, die von Natur aus blau ist
andchanges Farbe, als Heilpflanze verwendet und seine Blätter können in Salat- oder Gemüsegerichten gegessen werden. Die Blüten haben mehr Schleim als die Blätter.
LAGERUNG UND REGALLEBEN: Kühl- und Trockenlagerung, 2 Jahre ab Verpackungsdatum
VERPACKUNG: Plastiktüten in Kartons
ORGANOLEPTISCHE EIGENSCHAFTEN:
Geschmack: ein milder bitterer, adstringierender Geschmack
Aroma: Ein mildes, weiches Blumenaroma
Textur: Trocken und spröde
Aussehen: Blüte ganz
Farbe: Grün-Lila
PHYSIKALISCHE EIGENSCHAFTEN:
Fremdkörper ≤ 2,0%
Feuchtigkeit 13%
Gesamtasche 14%
Partikelgröße ˂ 2cm