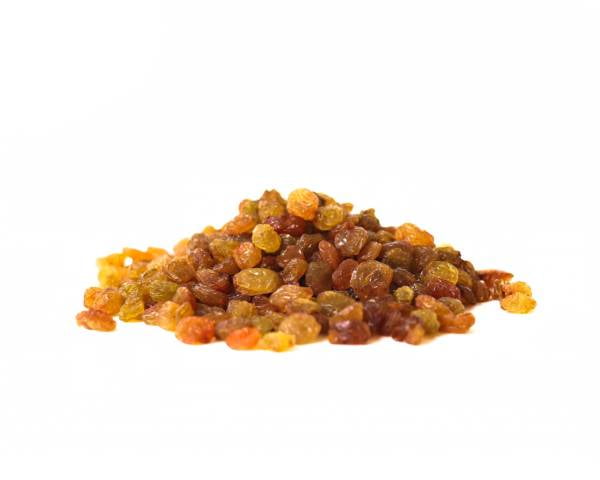 Sultana Raisins
Organic and Conventional
The sultana is a "white" (pale green), oval seedless grape variety also called the sultanina, Thompson Seedless (United States), Lady de Coverly (England), and oval-fruited Kishmish
Ask for Price or Description
SPECIFICATION SHEET
PRODUCT DESCRIPTION: Sultanu Raisins
Varieties:Vitis Vinifera (sultanina)
COUNTRY OF ORIGIN: Iran
CERTIFICATION: EU Organic Certified by KIWA BCS
PRODUCT DESCRIPTION : Sultana raisins are made from seedless grapes of the Vitis Vinefera. After being double washed, they will be dried then coated with vegetable oil (according to customer's order), de-stemmed and mechanically cleaned, laser and hand sorted. Sultanas are very sweet and similar in flavor to honey. They are widely used in traditional cakes, breads, and biscuits. They are also used in cereal products and dairy industry. In addition, they are an acceptable snack for vegetarians and vegans.
STORAGE AND SHELF LIFE : Cool and dry condition, 21 months from packing date
PACKAGING: Plastic bags in carton box
ORGANOLEPTIC CHARACTERISTICS:
Flavor : Very sweet, similar to honey in flavor, free from rancid
Aroma : Typical raisins aroma without any foreign smell of of-odor
Texture : Firm, chewy, free flowing
Appearance: Light to dark brown
PHYSICAL CHARACTERISTICS :
Foreign materials of plant origin: <2%
Moisture: <16 %
Vegetable oil: <0.5% (optional)
Sugared rasins: <10%
Insect damage: <3%
Damaged raisins: <4%
Moldy raisins: <2%
Seeded raisins: <2%
Capstems: <10%
Unripe raisins: <5%
CHEMICAL CHARACTERISTICS:
Total Aflatoxin: <15 ng/g
Aflatoxin B1: <5 ng/g
Ochratoxin A: <10 ng/g
SO2: 15%
___________________________________
DATENBLATT
PRODUKTBESCHREIBUNG: Sultanu Rosinen
Sorten: Vitis Vinifera (Sultanina)
URSPRUNGSLAND: Iran
ZERTIFIZIERUNG: EU-Bio-zertifiziert von KIWA BCS
PRODUKTBESCHREIBUNG: Sultana-Rosinen werden aus kernlosen Trauben der Vitis Vinefera hergestellt. Nach dem doppelten Waschen werden sie getrocknet, dann mit Pflanzenöl (gemäß Kundenbestellung) beschichtet, entstammt und mechanisch gereinigt, laser- und handsortiert. Sultanas sind sehr süß und haben einen ähnlichen Geschmack wie Honig. Sie werden häufig in traditionellen Kuchen, Broten und Keksen verwendet. Sie werden auch in Getreideprodukten und in der Milchindustrie eingesetzt. Darüber hinaus sind sie ein akzeptabler Snack für Vegetarier und Veganer.
LAGERUNG UND REGALLEBEN: Kühler und trockener Zustand, 21 Monate ab Verpackungsdatum
VERPACKUNG: Plastiktüten im Karton
ORGANOLEPTISCHE EIGENSCHAFTEN:
Geschmack: Sehr süß, ähnlich wie Honig im Geschmack, frei von ranzig
Aroma: Typisches Rosinenaroma ohne Fremdgeruch
Textur: Fest, zäh, frei fließend
Aussehen: Hell bis dunkelbraun
PHYSIKALISCHE EIGENSCHAFTEN :
Fremdstoffe pflanzlichen Ursprungs: <2%
Feuchtigkeit: <16%
Pflanzenöl: <0,5% (optional)
Gezuckerte Rasine: <10%
Insektenschaden: <3%
Beschädigte Rosinen: <4%
Schimmelige Rosinen: <2%
Samen Rosinen: <2%
Capstems: <10%
Unreife Rosinen: <5%
CHEMISCHE EIGENSCHAFTEN:
Gesamt-Aflatoxin: <15 ng / g
Aflatoxin B1: <5 ng / g
Ochratoxin A: <10 ng / g
SO2: 15%