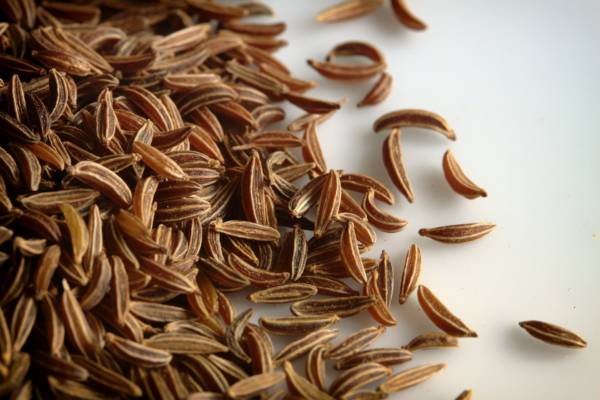 Caraway
Organic and Conventional
With the scientific name of Cuminum Cyminum, caraway is a great, nutritious and aromatic spice, which is very useful for digestion and menstruation.
Ask for Price or Description
SPECIFICATION SHEET
PRODUCT DESCRIPTION: Curaway
Varieties: Bunium persicum (Boiss) B. Fedtsch
COUNTRY OF ORIGIN: Iran
CERTIFICATION: EU Organic Certified by KIWA BCS
PRODUCT DESCRIPTION : It is an aromatic and carminative that can be used as spice or seasoning,
STORAGE AND SHELF LIFE: If you keep it in cool, dark cupboard and away from direct heat or sunlight it will stay at best quality for about 2 to 3 years.
PACKAGING: Plastic in cartons
ORGANOLEPTIC CHARACTERISTICS:
Flavor : pleasant taste and pungent
Aroma : Highly aromatic with typical scent of caraway and free from fug and mildew scent
Texture : firm
Appearance : Small brown slight curved seed
PHYSICAL CHARACTERISTICS :
Extraneous materials: <1% m/m
Alive or dead insects: Negative
Scelerotina mushroom: Negative
CHEMICAL CHARACTERISTICS:
Moisture: <12%
Total ash: <8%
Acid insoluble ash: 1.5%
Volatile oil: > 2.5 ml/100gr
____________________________________
DATENBLATT
PRODUKTBESCHREIBUNG: Curaway
Sorten: Bunium persicum (Boiss) B. Fedtsch
URSPRUNGSLAND: Iran
ZERTIFIZIERUNG: EU-Bio-zertifiziert von KIWA BCS
PRODUKTBESCHREIBUNG: Es ist ein Aroma und Karminativum, das als Gewürz oder Gewürz verwendet werden kann.
LAGERUNG UND REGALLEBEN: Wenn Sie es in einem kühlen, dunklen Schrank und vor direkter Hitze oder Sonneneinstrahlung schützen, bleibt es etwa 2 bis 3 Jahre lang in bester Qualität.
VERPACKUNG: Kunststoff in Kartons
ORGANOLEPTISCHE EIGENSCHAFTEN:
Geschmack: angenehmer Geschmack und scharf
Aroma: Hocharomatisch mit typischem Kümmelgeruch und frei von Fug- und Schimmelgeruch
Textur: fest
Aussehen: Kleiner brauner, leicht gebogener Samen
PHYSIKALISCHE EIGENSCHAFTEN :
Fremdstoffe: <1% m / m
Lebende oder tote Insekten: Negativ
Scelerotina-Pilz: Negativ
CHEMISCHE EIGENSCHAFTEN:
Feuchtigkeit: <12%
Gesamtasche: <8%
Säureunlösliche Asche: 1,5%
Flüchtiges Öl:> 2,5 ml / 100 g