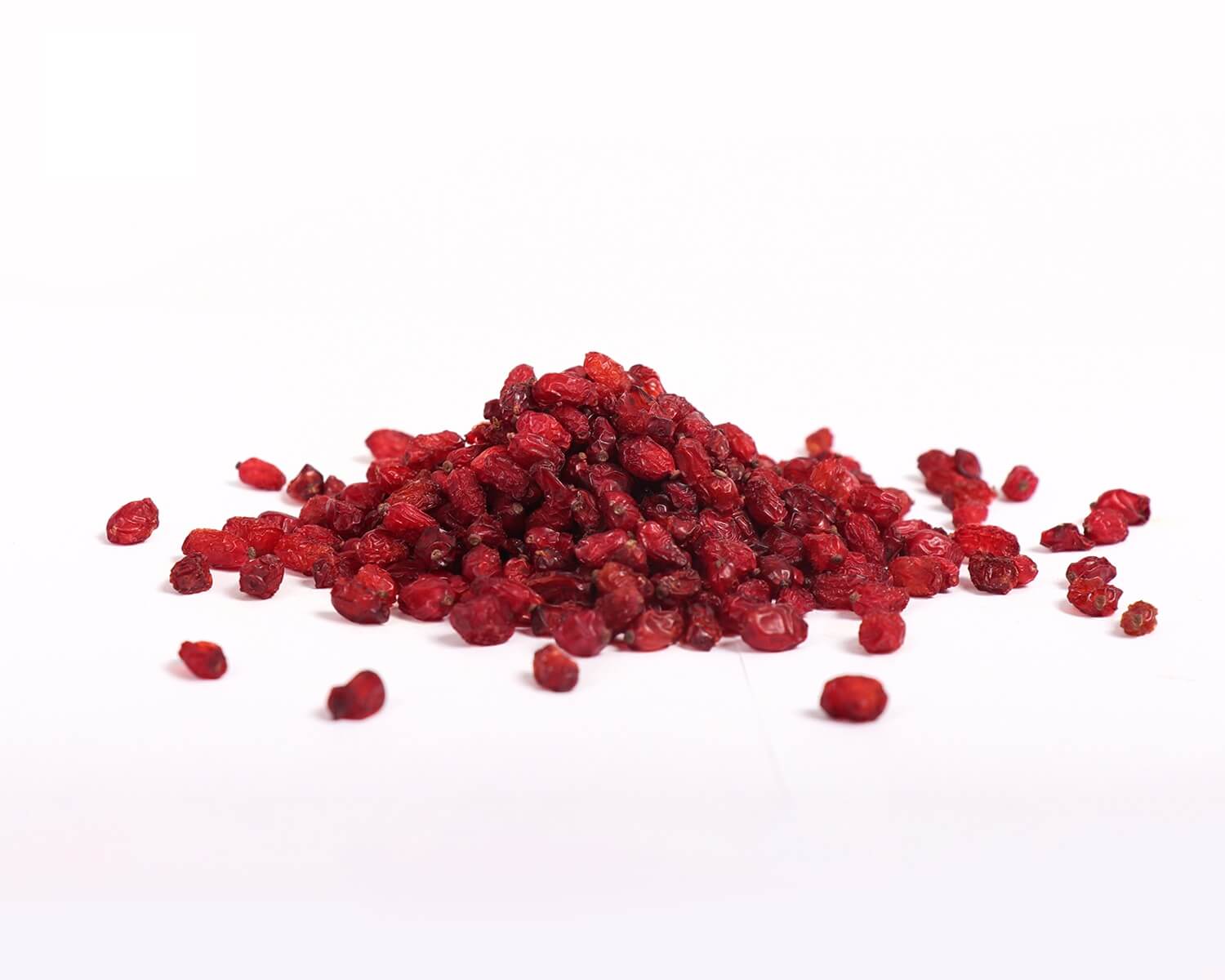 Barberry
Organic and Conventional
Berberis, scientifically known as Berberis Vulgaris, is found in temperate and subtropical regions of the world, including South America and Asia. Late spring and early summer is the season of berberis flowers to bloom. Berberis has a cold and dry nature and therefore can reduce mucus secretions. Other properties include improving rheumatism, blood purification, strengthening heart function and destruction of kidney and bladder stones.
Ask for Price or Description
SPECIFICATION SHEET
PRODUCT DESCRIPTION: Organic dried barberries
Varieties: Berberis Vulgaris L.
COUNTRY OF ORIGIN: Iran
CERTIFICATION: EU Organic Certified by KIWA BCS
PRODUCT DESCRIPTION : Air dried, unsulfured and completely natural seedless barberries. Used in food and cosmetic industries. A proper choice for making jams and marmalade. These ruby seed also give a powerful and eye-catching color to different kinds of foods and salads, as well as a tart and delicate.
STORAGE AND SHELF LIFE: Cool dry storage, 9 months with proper storage
PACKAGING: Plastic bags in carton
ORGANOLEPTIC CHARACTERISTICS:
Flavor : mild sour taste
Aroma : fruity and typical
Texture : Puffy
Appearance : Small red berries
PHYSICAL CHARACTERISTICS  :
Moisture: <16 %
Insect damage: <1 %
Alive insects: Negative
Rancidity and abnormal smell: Negative
Putrescence: <1.5 %
Contamination: Negative
Unripe berries: <1 %
Insoluble ash: < 0.8%
Berries with capstem: < 3 %
Foreign material: <1 %
_______________________________________
DATENBLATT
PRODUKTBESCHREIBUNG: Bio getrocknete Berberitzen
Sorten: Berberis Vulgaris L.
URSPRUNGSLAND: Iran
ZERTIFIZIERUNG: EU-Bio-zertifiziert von KIWA BCS
PRODUKTBESCHREIBUNG: Luftgetrocknete, ungeschwefelte und völlig natürliche kernlose Berberitzen. Verwendet in der Lebensmittel- und Kosmetikindustrie. Eine gute Wahl für Marmeladen und Marmelade. Diese Rubinsamen verleihen auch verschiedenen Arten von Lebensmitteln und Salaten eine kräftige und auffällige Farbe sowie eine herbe und delikate Farbe.
LAGERUNG UND REGALLEBEN: Kühl, trocken, 9 Monate bei sachgemäßer Lagerung
VERPACKUNG: Plastiktüten im Karton
ORGANOLEPTISCHE EIGENSCHAFTEN:
Geschmack: milder saurer Geschmack
Aroma: fruchtig und typisch
Textur: Puffy
Aussehen: Kleine rote Beeren
PHYSIKALISCHE EIGENSCHAFTEN :
Feuchtigkeit: <16%
Insektenschaden: <1%
Lebende Insekten: Negativ
Ranzigkeit und abnormaler Geruch: Negativ
Auswuchs: <1,5%
Kontamination: Negativ
Unreife Beeren: <1%
Unlösliche Asche: <0,8%
Beeren mit Capstem: <3%
Fremdmaterial: <1%